Mother-to-be escapes pub firework attack in Stretford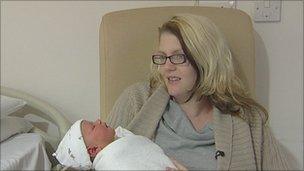 A pregnant woman managed to escape unscathed after 20 fireworks were hurled into a Greater Manchester pub.
The explosion left Amy Royle diving for cover as flames and bright lights shot across the Melville Hotel on Barton Road in Stretford.
A week on, after giving birth to baby Evie Rae, she has described the attack.
"This huge firework was thrown in, I barricaded myself in the toilets but I could hear the cartridges hitting the door, I just held my bump," she said.
Ms Royle, who gave birth on Wednesday night, had gone to the Melville Hotel with her partner, Jon Flood and her father Raymond.
Her parents had flown over from Canada to be with her before she gave birth, as she was 41 weeks pregnant at the time.
"We took my dad there because it was a bit of old stamping ground for him because that's where my mother and father first met," the 28-year-old explained.
"As my partner got the drinks in, a side door opened and I just saw this huge firework with tubes that were slightly longer than my daughter is now.
"The pub began to fill with smoke, they were shooting off everywhere, I just kept holding my bump and thinking of the baby."
Fortunately there were no adverse effects for the pregnancy and both Ms Royle and her baby are doing well.
The explosions, on 14 October, went off for nearly 30 minutes but no-one was seriously injured.
Pub landlord David Brown, said: "It could have been terrible, I remember the night before we had a big funeral on, it was really busy then.
"If it had happened that night then people could have got hurt. I am just amazed no-one was seriously injured."
Greater Manchester Police said they are still looking for those responsible and appealed for anyone with information to come forward.
Related Internet Links
The BBC is not responsible for the content of external sites.