Protest outside Wayne Rooney's Cheshire home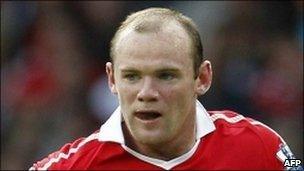 Protesters gathered outside Manchester United striker Wayne Rooney's Cheshire home, following an announcement he wants to leave the club.
Police were called to the footballer's £4.5m mansion in Prestbury at 2030 BST on Wednesday, after reports up to 30 people were outside.
The group dispersed and no offences were committed, a spokesman said.
Rooney, 24, confirmed in a statement on Wednesday he wanted to leave the club, which he joined in 2004.
He wants to leave Old Trafford because the club cannot match his ambition, he said.
There has been speculation he will sign for rivals Manchester City.
Rooney's home, which he shares with his wife Coleen and son Kai, is in a quiet tree-lined drive - dubbed Millionaires' Row - and is surrounded by a wall and gates for security.
His neighbours include fellow United players Wes Brown and Michael Carrick.
A spokesman for Cheshire Police said: "Cheshire Police can confirm that at 8.30pm, a call was received from a resident in Prestbury regarding 20 to 30 people assembling outside their address.
"Police attended the scene and the group dispersed peacefully. No offences were committed."
Manchester United chief executive David Gill has called on fans to be patient as talks with Rooney continue.
He met manager Sir Alex Ferguson on Thursday, along with Rooney's adviser Paul Stretford.
However, the club said in a statement there were "no developments of note to report" following the meetings.
Related Internet Links
The BBC is not responsible for the content of external sites.