Gangster Domenyk Noonan cleared of Stockport hotel rape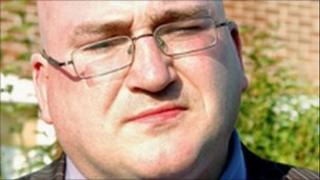 A convicted gangster has been cleared of raping a woman in a Stockport hotel.
Domenyk Noonan, 45, who was sentenced to nine and half years for firearms offences in 2005, was accused of rape less than three months after being released on licence.
However, prosecutors told Minshull Street Crown Court there was "no longer a realistic prospect" of securing a conviction against him.
Noonan, also known as Lattlay-Fottfoy, is being held at HMP Manchester.
His solicitor, Elaine Moloney, said he would be released after a parole board hearing.
The Crown Prosecution Service (CPS) said: "In this instance, we have recently received further evidence which, after careful consideration, leads us to believe that there is no longer a realistic prospect of securing a conviction.
"As such, the decision has been taken to drop all charges against this defendant."
Revolver under bonnet
Noonan had been celebrating his birthday with friends and family at the Saxon Hotel on the night he was accused of raping a woman.
Ms Moloney said he had abided by his licence curfew and returned home at 2300 BST. He returned to the hotel to say goodbye to those who who celebrated with him to find the police were waiting for him.
He was charged with rape two days later.
"He has always maintained his innocence and the prosecution admitted early on into their investigations that they were having difficulties collating any evidence," Ms Mooney said.
Noonan was jailed in 2005 after a revolver and ammunition were found under the bonnet of his car when he was stopped by police in Darlington.
Earlier that year, his brother Desmond "Dessy" Noonan was interviewed for a television documentary and bragged about having "more guns than the police".
A few days later he was stabbed to death on a street in south Manchester.