Cruel Crufts runner-up given animal ban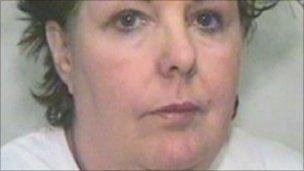 A prize-winning dog owner who kept animals in squalid conditions has been banned from keeping animals for life.
Wendy Hutcheson, 58, who ran Audenshaw Dog and Cat Home in Greater Manchester, was a runner-up in one of the categories at Crufts in 2007.
A vet later described the conditions they found at her animal shelter as the worst they had seen in 28 years.
Tameside magistrates found her guilty of causing unnecessary suffering to 92 dogs, cats and rabbits.
Hutcheson, who now lives in Laurel Avenue, Inverness, was convicted of six charges earlier this week.
She was given a conditional discharge along with the ban and told to pay £1,000 towards prosecution costs.
The court heard she has mental health problems and she has now lodged an appeal against her sentence and conviction.
The case was brought by the RSPCA, who visited Audenshaw Dog and Cats Home in January 2009 after a call from the police.
Their officers found portable buildings and a caravan crammed with starving cats, dogs and rabbits.
Ninety-two animals were found in total - 63 dogs, 25 cats, two rabbits and two birds.
All were seized by police on veterinary advice and placed in RSPCA care.
RSPCA inspector Vicki McDonald said: "I've never seen as many animals living in such horrendous conditions in all my time working for the RSPCA.
"There was faeces and urine everywhere.
"The dogs were in small and filthy pens or cages, some of which were stacked on top of each other, with no access to food, water or bedding.
"Most were heavily matted with their own excrement."
She said all except four dogs and two cats had now been re-homed.
"These animals are now in wonderful new homes where they're being cared for in the way they always should have been," she said.
"I hope the sentence passed today will ensure no further animals suffer because of Ms Hutcheson."
Related Internet Links
The BBC is not responsible for the content of external sites.