Ex-Happy Mondays dancer Bez's assault appeal rejected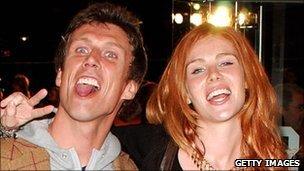 Ex-Happy Mondays dancer Bez has lost an appeal against a conviction for assaulting his former partner.
Bez - real name Mark Berry - was warned by a judge at Manchester Crown Court that he could be arrested after reacting angrily in court to the verdict.
The former Celebrity Big Brother winner was also ordered to pay £500 costs.
He was jailed for four weeks in August for attacking his ex-partner Monica Ward.
"It's a joke," Bez said from the dock. "I'm going to take this to a higher court.
"I'm not paying nothing."
Judge Roger Dutton, hearing the day-long appeal with two magistrates, told Bez he would need to take legal advice before taking any further appeal to the High Court.
"What a stitch-up," Bez replied, before the judge retorted: "I would be very careful what you choose to say.
"If you express yourself in that way again I will have you arrested."
Bez, who found fame in the 1980s for his freaky dancing in the Happy Mondays, was jailed after a row over money with Ms Ward, the mother of his two-year-old child.
He was convicted after a trial and originally given a community order and asked to pay £450 in costs.
But he was jailed for a month after refusing to serve the sentence.
Bez, whose legal costs are being paid by the taxpayer as he is unemployed and legally aided, was appealing to try to overturn the conviction at the higher crown court.
But although the court heard there were "inconsistencies" in the prosecution claims, the bench rejected Bez's claims of a miscarriage of justice.
The judge said the defendant had shown "a good deal of anger" while giving evidence during the appeal.
Outside court, Bez was too angry to comment on the outcome.
His solicitor Peter Eatherall said it was "unlikely" the case would go to the Court of Appeal.
He read a statement from his client: "I am disappointed at the appeal ruling and have undertaken this appeal to clear my name, nothing more."
Mr Eatherall added: "Bez is Bez, there is nothing behind the curtain, that is how he is and what he is. But he is not a violent man."