New threat for Salford school rebuilding scheme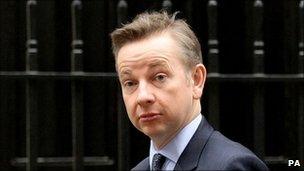 Some school rebuilding projects across Salford could be axed after the council was told to make savings of about 40% to the budget.
Councils given the green light despite the axe falling on Building Schools for Future (BSF) in July were told on Thursday to bring their costs down.
Education Secretary Michael Gove said authorities had known since 5 July that they might need to make further cuts.
Salford council leader John Merry said "at no point" was a figure mentioned.
Writing in the Guardian, Labour councillor Mr Merry said the cut equated to more than £40m.
Eight schools are due to be rebuilt or refurbished as part of the project, which was one of those to escape the cancellation of the programme in July.
Salford City Council has been working with Department for Education officials to draw up plans for its programme so the cut came out of the blue, Mr Merry said.
"The first inkling we got was this phone call that said we're going to be expected to make 40% cuts," he said.
"Some schools will not be able to proceed, some schools which were expecting new schools will have to make do with refurbishment, others will not get any money at all.
"We were ready to squeeze as much value for money as possible out of the scheme and that's what we thought we were working with officials on the basis of. At no point was this figure of 40% actually mentioned."
Councils have been told to renegotiate with construction firms to brings costs down, but Mr Merry said: "No builder can work on the basis of that.
"Even if I'm building an extension to my house I appreciate you can't say 'I'm going to accept a quote then try and get it down' but then decide you're only going to spend half the money," he said.
Speaking to the BBC Politics Show on Sunday, Mr Gove insisted that authorities were told of the need to make further savings on 5 July.
"This is a time when anyone who is in negotiations with a building company will be wanting to bring costs down from the level they might have been paying two or three years ago," he said.
"Right at the beginning we made it clear that we were going to negotiate with the builders in order to make sure we could make every building as efficient as possible. That's why we launched our capital review."
The full impact of the directive - and the savings expected to be made - are expected to be revealed on 20 November.
Related Internet Links
The BBC is not responsible for the content of external sites.