More than 200 jobs lost at Wigan Council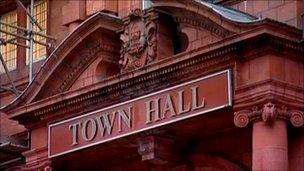 More than 200 staff at Wigan Council are taking voluntary redundancy and early retirement as the council tries to slash its spending.
One hundred and ninety staff are stepping down with a further 37 starting a "wind-down" through flexible retirement and reduced hours.
Councils across the country face a 28% cut over the next four years as part of the Government's Spending Review.
Wigan Council has to make £55m worth of savings over the next three years.
Thanking staff who volunteered to leave, Wigan Council Chief Executive Joyce Redfearn said: "We must stress that this is only the first phase of our approach.
"We have to make further assessment in light of the outcomes of the Spending Review."
Ms Redfearn adds: "Inevitably the ongoing reductions in resources we are facing will have an impact on the services we provide but our priorities remain to protect vital front-line services, reduce red tape and providing value for money."
Related Internet Links
The BBC is not responsible for the content of external sites.