Mother's appeal over 2006 car killing in Prestwich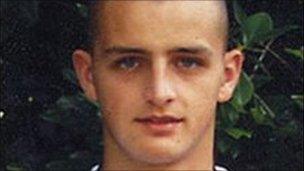 The mother of a young man who died after being deliberately run over in Greater Manchester has called on his killers to search their conscience.
David Lees, 23, was knocked down on Middleton Road in Prestwich, after a disturbance at a petrol station forecourt on 27 October 2006.
Nobody has ever been charged with his murder.
Mr Lees' mother Anne, of Blackley, said: "How would he feel if this happened to his son or brother?"
Mr Lees had been out with friends when they became involved in the disturbance with a group of Asian men, police said.
He was hit by a silver Vauxhall Vectra, registration number T313 NCR. It sped up to between 60 and 70mph before it drove directly towards him as he stood in the middle of the road.
The car was then driven to the gates of Heaton Park where the driver met people in other cars before heading to south Manchester.
Mrs Lees, 51, said: "Whoever killed my David has had this on their conscience for four years now - I'm sure it will be weighing them down.
"He may be getting on with his life and might have even started a family of his own, but I'm convinced David will be always on their mind.
"I want to tell David's killer that you might think you've got away with it - but one day there will be a knock on your door."
Det Supt Sam Haworth said: "Four years have now passed since David's death and his family remain in limbo, unable to put this sorry episode behind them.
He said police were "determined as ever" to resolve the case and said he believed the answers lay with members of the community.
He added: "In four years allegiances can change and people can reassess their friendships and associations.
"The truth will come out and I am confident the driver will one day face up to what he has done."
Police have offered a £50,000 reward to anyone who helps convict Mr Lees' killer.
In August 2007, Arfan Javed, 30, of Longsight, was jailed for two-and-a-half years after admitting perverting the course of justice in relation to fabricating the sale of the Vauxhall Vectra.
Related Internet Links
The BBC is not responsible for the content of external sites.