CCTV catches 'fake' fire crashes in Greater Manchester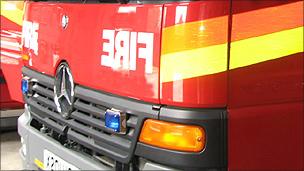 Motorists who have falsely claimed that fire engines have damaged their cars have been caught out by CCTV attached to the appliances.
On one occasion, a motorist in Stretford claimed a firefighter damaged her car when he jumped out of a fire engine to attend a house fire.
But the CCTV revealed the vehicle was already damaged and she had driven into the fire engine herself.
The fire service warned it would start naming those making false claims.
During another incident, a driver claimed a fire engine crashed into his car at a Stockport petrol station at such speed it caused severe damage and injuries.
However, CCTV on the fire engine showed it creeping away from the petrol pump, brushing the bumper.
Councillor Paul Shannon, chairman of Greater Manchester Fire Authority, said he was disgusted by both claims.
He said: "The fire service is funded by public money.
"To think that people who live within Greater Manchester would actively try and defraud money out of us is a disgrace.
"I'm all for this type of detective work if it helps stop such unscrupulous people making a quick buck out of us.
"To think our crews are out there, often putting their lives at risk supporting the community and providing assistance in emergencies, and this is the way some people chose to repay them is disgusting."
Related Internet Links
The BBC is not responsible for the content of external sites.