Manchester International Festival 'will survive' cuts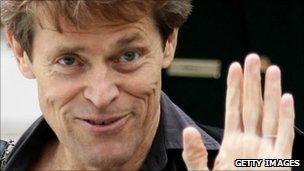 Next year's Manchester International Festival (MIF) will go ahead despite one of its funding sources - Arts Council England - having to make cuts.
The biannual event, which in 2011 is headlined by a play starring Willem Dafoe, currently draws about 10% of its funding from the body.
But the council has revealed the part of its budget which supports MIF will be reduced by £21m (64%) in 2011-12.
It means plans for the 2013 festival could be scaled back.
Regularly funded organisations, including the Manchester Camerata and the city's jazz and literature festivals, will see their finances reduced by 7% in the first year of the plan.
But the body's fund which supports strategic opportunities for artistic work - from which MIF draws money - is to be cut by more than half.
The council said MIF's grant would not be cut by the full 64% but it is not yet certain how much of its funding the festival will lose. The grant makes up about 10% of its budget - about £1m.
A spokeswoman for the council said: "Manchester International Festival (MIF) is a great example of the kind of valuable work our funding supports.
"MIF is a truly world-class festival with an incredibly bright future.
"We have expressed a strong desire to fund MIF in the coming years and on 4 November we'll be announcing details of how MIF, alongside other arts organisations, will be able to apply for funding."
Festival director Alex Poots said: "We don't yet know precisely how these cuts will affect the festival but we understand that the Arts Council has expressed a strong desire to fund MIF in the future.
"The funding that Arts Council England provides for organisations like the festival is vital to the health of the cultural life of the country which in turn supports the economic and social sectors."
Mr Poots said he was expecting the precise details of the funding cut on Wednesday.
Related Internet Links
The BBC is not responsible for the content of external sites.