Four Greater Manchester road schemes get green light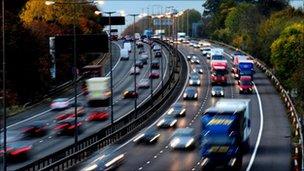 Four schemes to upgrade major roads in and around Greater Manchester have been given the green light by the government to try to ease congestion.
An extra anti-clockwise lane will be built from junctions 15 to 12 of the M60.
"Dynamic hard shoulders" will run on junctions eight to 12 of the M60 and from junctions 18 to 20 of the M62.
The A556 from Knutsford to Bowdon will also be upgraded to "dual carriageway standard".
Some plans were not given approval, including the A6 to Manchester Airport relief road scheme, the Mottram bypass and the Wigan inner relief road, the Association of Greater Manchester Authorities (AGMA) said.
Some schemes must be resubmitted to the Department for Transport (DfT), including the Manchester cross city bus service and Rochdale interchange.
The transport secretary gave the green light to 16 road improvement and public transport schemes, saying they were a "key driver" of future growth.
They were earmarked to go ahead under the last Labour government but were subject to review by the coalition as it sought to make £81bn in spending cuts.
Ministers have also announced rail fares would rise as overall transport funding is cut.
AGMA chairman Lord Peter Smith said he welcomed the work to ease congestion but was disappointed that some of the region's other plans had not be given the go-ahead.
He said: "All AGMA schemes satisfied the government's stated commitment to grow the private sector and we believe these contribute significantly to the fundamental need to drive growth in our economy.
"Our priority at this time should be delivering transport improvements and planning for growth rather than resubmit our proposals to the DfT.
"We will of course, comply with the DfT request and remain confident that these schemes will ultimately receive their support."
Related Internet Links
The BBC is not responsible for the content of external sites.