Scavengers leave landslide threat in Ashton-under-Lyne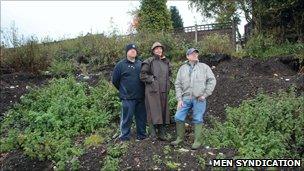 Treasure hunters have dug so far into the side of a Greater Manchester valley £40,000 has had to be spent to prevent a landslide, a council said.
Tameside Council said caves had been dug behind homes in Ashton-under-Lyne on a area which was a landfill site in Victorian times.
The council said it had had to remove trees, and had put up notices and built fences to try to stop the diggers.
Police have also increased patrols in the area.
Vincent Robinson, who lives on Gambrel Bank Road, said treasure hunters had been digging at the site for years.
"It's been happening for the past two decades," he said.
"It just so happens that some years ago someone found a bottle there and it sold for £1,000 and now word has got out that it's some kind of treasure trove."
Councillor Alan Whitehead said he had been working with residents and the police to try to stop the scavengers, who some local residents refer to as "human moles".
"The holes and caves have become so big we have had to take down trees and put up fences to try and keep the ground secure," he said
"The area has been fenced off and trees have had to be felled, although only on the recommendation of our arboriculturalist.
"Surveying is now taking place, after which detailed designs will be prepared and further work carried out to ensure the long-term stability of the area."
The land is owned by the council, and signs have been erected warning diggers that they are trespassing.
"It doesn't stop them," said Gambrel Bank Road resident Sheila Shackleton.
"I have been mithering the council for years and now they are actually doing something I feel it is a little too late.
"The bottle hunters have already caused so much damage. Sometimes when I am in the back garden I hear them digging and rattling away.
"I tell them to stop saying they are on council land, but they just ignore me - they show absolutely no respect."
A spokesman at Eccles-based antiques shop Stephen Shawcross and Son said they could "not understand" how enthusiasts thought Victorian bottles were worth anything.
Related Internet Links
The BBC is not responsible for the content of external sites.