Pc arrested during drugs raid at house in Oldham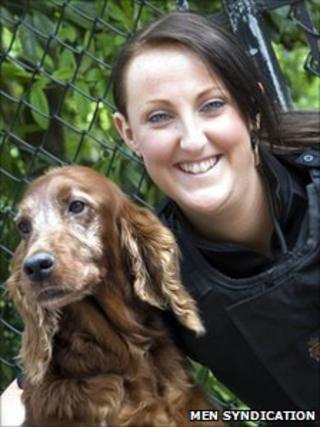 A police officer was arrested by her colleagues when they raided the house of a suspected drug-dealer in Oldham.
Greater Manchester Police (GMP) raided the house on 12 November and found cocaine, cash and Pc Leanne Murphy, 26.
Pc Murphy was arrested on suspicion of possessing drugs with intent to supply, bailed until 5 January and put on restricted duties.
She is expected to be investigated by GMP's Professional Standards Branch and could face disciplinary action.
Pc Murphy was off-duty at the time.
She was one of four people arrested at the house, which is not her home address and was searched on a warrant.
A police spokesman said: "Greater Manchester Police can confirm a serving officer was arrested on Friday 12 November 2010 on suspicion of [possessing] drugs with intent to supply.
"It followed a warrant at a house in Oldham.
"The matter has been referred to Greater Manchester Police's Professional Standards Branch."