BAE Systems ends contracts of 382 Nimrod workers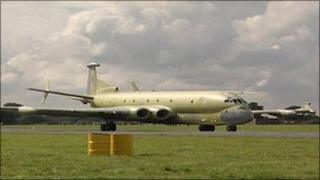 All sub-contractors working on the now-scrapped Nimrod aircraft project for BAE Systems in the north west of England have lost their jobs.
The decision affects 320 people at the company's base in Woodford, Stockport and 62 in Warton, Lancashire.
Work being undertaken by the sub-contractors has been taken on by the defence giant's permanent employees.
BAE Systems said it was still in talks with the MoD about the future of the aircraft under construction.
David Cameron announced that the replacement Nimrod MRA4 surveillance and reconnaissance planes project would be scrapped in the defence review.
The prime minister said the project had cost more than £3bn. Unions say the actual cost is nearer £4bn.
A BAE Systems spokesperson said: "Following last month's publication of the government's Strategic Defence and Security Review (SDSR), mitigating the short-term impact of the cancellation of the Nimrod programme is of utmost importance to us.
"Where our own permanent staff are able to undertake roles currently done by sub-contractors then it is only right that they should do so.
"In reaching this decision we have fully liaised with our sub-contract agencies."
The sub-contractors had been taken on by BAE to get the Nimrod completed under timescales set out by the MoD, according to the Unite union.
Site representative John Fussey told BBC News that staff were informed on Wednesday morning and left the factory soon afterwards.
'Totally depressed'
"It's something we knew was coming. They weren't going to build nine aircraft. They didn't need the size of the workforce they had, they were always going to reduce it," he said.
With the factory suddenly two-thirds empty and staff saying goodbye to "good friends" and colleagues, Mr Fussey said those that have been left were "totally depressed".
"At this moment we have got a £4bn product they want to cut up into total scrap and that's a job we're going to be employed to do until the end," he added.
"We were hoping BAE would see a saleable solution and maybe take it over and build it and sell it, but that seems unlikely."
The company said it remained in discussions with the MoD about the fate of the one aircraft built and eight others being worked on.