University of Manchester students occupy lecture hall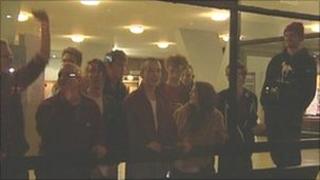 Students are continuing to occupy a lecture theatre at the University of Manchester in protest at government plans to increase tuition fees.
The sit-in demonstration, in Theatre B of the Roscoe Building, began on Wednesday after thousands of students marched through the city centre.
Ten people who spent the night there said they would remain indefinitely.
A university spokesman said lectures were still taking place in the rest of the building.
Solidarity pledge
"Lectures are ongoing in the building with the protesters sitting in but not disrupting their education," he said.
The sit-in began at 1600 GMT on Wednesday, after protests in Manchester which were part of a day of action across the UK.
One student said: "We think if enough occupations take place across the country we will be able to stop the cuts."
A statement from the group has called upon the university's management to release a statement condemning the proposed increase in fees.
The group said it was taking the action in "solidarity with all those who will be affected by these fees, as well as others who are engaged in acts of protest".