Manchester man jailed for sex abuse of 13-year-old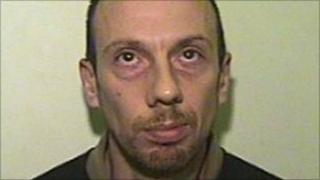 A man who repeatedly abused a 13-year-old girl has been jailed for 10 years by a judge at Manchester Crown Court .
James Docherty, 37, admitted six counts of sexual activity with a child, possession of a firearm and possession of ammunition at an earlier hearing.
Police said he started abusing the girl in 2006 and it continued for three years.
Officers were alerted in 2009, and when they raided his Manchester house they discovered the ammunition and a gun.
Police said Docherty, of no fixed abode, was known to carry the gun around in the belt of his trousers.
Det Con Louise Howarth, from West Didsbury CID, said: "Docherty is a bully. He manipulated a very young girl into having a sexual relationship and repeatedly sexually assaulted her, attacking her when he got jealous and forcing her to keep everything a secret.
"Such actions can only be described as cowardly.
"He backed up his bullying by carrying around a pistol, which he clearly used to frighten and intimidate people into doing what he wanted.
"Although there is no evidence he fired the gun, the mere threat of having this weapon caused people around him to live in genuine fear."