Legal aid cuts 'could close' Bolton CAB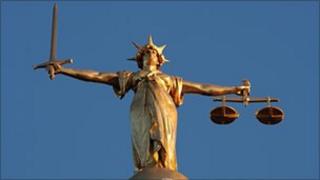 A Citizens Advice Bureau (CAB) in Greater Manchester could be forced to close as a result of cuts to legal aid, its chief executive has warned.
The government is planning to overhaul civil legal aid in England and Wales. It would only be routinely available where life or liberty was at stake.
Barry Lions, of Bolton CAB, said legal aid makes up 65% of its income.
The Ministry of Justice said, under their plans, the most vulnerable people would still be given legal aid.
The proposals, which are open for consultation until February, are intended to cut the legal aid bill by £350m a year by 2015.
Aid will be cut for divorce, welfare benefits, school exclusion appeals, employment, immigration where the person is not detained, clinical negligence and personal injury.
It is thought there will be 500,000 fewer civil cases as a result.
Mr Lions said Bolton CAB gave 14,000 people advice on debt, welfare benefits, housing issues, unemployment problems and immigration last year.
"The value of our work is that by helping people out and sorting people's problems out quickly, we save an awful lot of cash to the tax payer by not allowing problems to escalate," he said.
"The amount of money that is threatened to be cut is so disproportionate to the hit to advice agencies and the hit to vulnerable people."
A spokesman for the Ministry of Justice said: "Access to justice is the hallmark of a civilised society.
"But at more than £2bn each year, we currently have one of the most expensive legal aid systems in the world.
"We believe that the taxpayer should continue to provide legal aid to those who need it most and for serious issues.
"Our proposals will ensure that legal aid is provided in cases where a litigant's life is at stake, or involves the loss of liberty, homelessness, physical harm, or in cases involving children being taken into care."
He said the Ministry of Justice was also proposing to extend the Community Advice Line as the first point of call for people who need help.