Wirral consultation on minimum alcohol pricing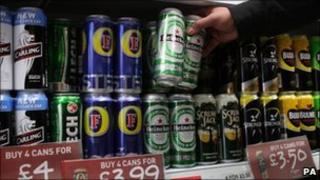 People in Wirral are being asked if they think the borough should back minimum alcohol pricing.
The Association of Greater Manchester Authorities (Agma) wants to create a by-law to make it illegal to sell alcohol for less than 50p per unit.
The idea, designed to address public order and health issues, already has the support of health officials in Merseyside and Cheshire.
Residents are being asked for opinions as part of a Merseyside-wide survey.
Officials in Greater Manchester have drawn up a draft by-law that would outlaw the sale of cheap alcohol and pub loyalty card schemes in the region.
Agma cites a Sheffield University study concluding that a minimum price for alcohol would lead to 3,400 fewer deaths a year, 98,000 fewer hospital admissions and 46,000 fewer crimes every year.
Members last week voted to push ahead with the proposals, which will now be subjected to further scrutiny.
Health officials from Merseyside, Warrington and Cheshire East - which all border parts of Greater Manchester - are working with Agma to ensure a co-ordinated approach to the scheme.
Below cost price
As part of that, a consultation began on Monday to find out whether people in Merseyside believe the region should follow suit.
Councillor Sue Taylor, Wirral Council's licensing chairwoman, said: "We have contacted many of the organisations involved either in the sale of alcohol or dealing with the more extreme consequences of alcohol consumption but I also want to give residents who may have views the chance to comment as well.
"We are keen to work with the government to stop large supermarkets selling alcohol at below cost price and also to reform the licensing laws to give local communities more control.
"Alcohol is a major feature of this time of year and I'm sure many people will have their own view."