Protest against Animal World closure in Bolton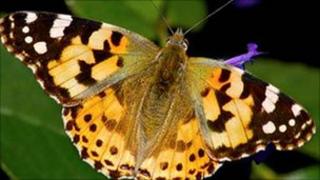 Campaigners have protested outside an animal park in Bolton in a fight to save it from closure.
Animal World and Butterfly House in Moss Bank Park could be axed, with the loss of three jobs, as the council struggles with a £1.7m budget cut.
Farmyard animals, tropical birds and the butterflies attract half a million visitors every year.
Unison and local parents organised the demonstration. The council said it was still looking at ways to save it.
Jakie Peploe, from the union, said it was a "truly valuable" facility, and a unique one because there was "nowhere else" in north-west England that offered such attractions for free.
"We understand that savings have to be made but this particular facility is free for the people of the borough.
"It's been there for a long time and it's very, very popular. We want to try and save it for the people and also for our Unison members."
She said it attracted visitors from abroad and that it brought money into local businesses.
Voluntary groups
Bolton Council has put the matter out to consultation and will make a decision on its future in February.
A spokesman said: "One proposal which the council is unfortunately having to consider is the closure of Animal World, which costs over £100,000 a year to run.
"We have just completed a consultation with service users, partners, interested community groups and the wider public on these proposals and are currently considering the results.
"We understand that this is a popular destination for families and we will look at all options for the future of the site, including working with partners such as community or voluntary groups."
The local authority stands to lose £1.7m revenue funding over the next three years, as well as a £257,000 reduction in capital funding and up to £2m in specific grants.