Trafford trust seeks takeover to resolve budget deficit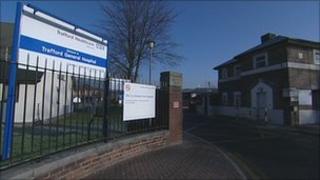 The hospital which celebrated the birth of the NHS in 1948 is seeking a possible takeover partner as it struggles with a debt of £8.3m.
Trafford Healthcare is one of six NHS trusts described by NHS chief executive David Flory as financially challenged.
Despite cutting costs by 19% over the last three years, trust bosses do not think they can make the savings asked of all trusts over the next four.
The trust board is seeking a bigger partner for merger or acquisition.
Managers said they were determined to preserve their record in high quality care during the reorganisation.
The trust, which is one of the smallest in England with a turnover of £94m, was in the middle of a five-year plan to address its deficit and achieve foundation trust status.
But in July the government announced a new requirement for all hospitals to become foundation trusts by 2013, which manager do not believe is achievable.
Worsening crisis
Chair Fay Selvan said: "Our business plan demonstrated that, whilst we could pass the rigorous financial tests to become a foundation trust in five years' time, we will not be able to do so in just one year's time - particularly as the financial environment is worsening.
"In the last few years we have succeeded in making Trafford Healthcare one of the best-performing trusts in the country on infection control, driving improved quality of care and delivering efficiency savings of more than 19% in three years.
"The Trust Board is committed to finding a partner who will continue to drive these improvements in patient care, retain services in Trafford and continue the work we have begun to improve our estate."
Consultations will be carried out with patients, GPs, staff, organisations and the wider public in Trafford, the trust said.
The site, initially known as Park Hospital, became the first hospital in the UK to offer free healthcare to all when the then health secretary Aneurin Bevan inaugurated the NHS there on 5 July 1948.