Manchester United to welcome Chilean miners for match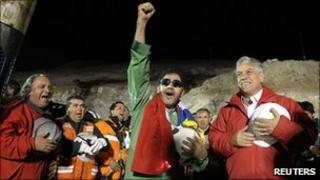 The Chilean miners who spent two months trapped underground are to visit the UK to watch a Manchester United match.
Most of the 33 men, who were rescued in October, are expected to attend Old Trafford to watch the team, which some of them are thought to support.
United legend and club director Sir Bobby Charlton suggested the idea during a recent trip to Chile.
And manager Sir Alex Ferguson extended the same invitation when he met Chile president Sebastian Pinera in October.
The trip is being organised through a Chilean wine producer which sponsors United.
Arsenal fixture
It has not yet been announced which fixture the miners will attend, but they are understood to be travelling to the UK on 11 December.
United's next home fixture in the Premier League is against title rivals Arsenal.
Members of the team emerged from the underground during a dramatic rescue which played out live around the world.
One-by-one, they were brought back to the surface in a capsule to be greeted by family, friends, colleagues and the world's media.
The men were trapped in the San Jose gold and copper mine by a rock fall on 5 August.
Chile's president has placed the blame for the accident on the mine's owners, the San Esteban mining firm, saying they had failed to follow regulations.
Mr Pinera met United manager Sir Alex during a trip to the UK on 18 October.