Greater Manchester woman dies in fall at Nepal hotel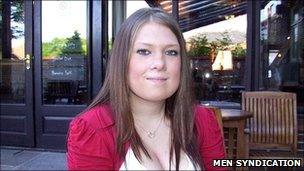 A young woman from Greater Manchester has been killed in a fall from a hotel window in Nepal.
Jennifer Smith, from Stretford, plunged four floors at the hotel in the Thamel area of Kathmandu on 4 December.
The 22-year-old, who had been on a volunteer programme called Platform2, had been with fellow volunteers on a weekend off when she fell.
Tributes have been paid to the former performing arts student, who was described as "gifted and popular".
A spokeswoman for the programme said police had investigated and classed the death as accidental.
In a statement, she said: "Platform2 can confirm that a tragic accident on Saturday 4 December led to the death of a volunteer in Kathmandu, Nepal.
"The volunteer fell from a hotel window resulting in fatal injuries. The accident occurred while away from the Platform2 project on a weekend off.
"The next of kin have been informed, and we would like to offer the family our deepest sympathy."
Miss Smith had been based in the village of Lamatar, about eight miles (13km) from the capital city.
A Foreign Office spokesman said: "Next of kin have been informed and we are providing consular assistance."
Joanna Jolly, the BBC's reporter in Kathmandu, said the city's chief of police had told her he interviewed several witnesses to the fall.
He said Miss Smith had returned to the hotel after drinking what he described as "a lot of alcohol" in two bars.
The former Trafford College pupil had been on a 10-week trip to the Himalayan country to help build schools. She was expected to fly home on 23 December.
Her mother, Janet Thorpe, said she had lost "a very close friend as well as a daughter".
She said: "She was just full of life. She wanted to be on TV. She wanted to act, she wanted to sing. She was always dancing. She wanted to achieve.
"She loved the experience. She wanted to help everyone, and was there for them."
Close friend Victoria Bradley said she had been in touch with Jennifer while she was in Nepal and said she was enjoying her stay.
"She loved helping others, and she only ever wanted to make people happy and by going to Kathmandu that's what she was doing," she said.
Trafford College lecturer Lynne Flame said staff and pupils were "shocked and saddened" to hear of her death.
"Jenny was an enthusiastic and outgoing person, and always in good spirits.
"She was very well liked and a popular member of her group with both her tutors and fellow students.
"She will be sadly missed by all, and our thoughts are with her family and friends at this time."
Miss Smith had studied performing arts in her final year and was described as "very gifted" in the field.
Related Internet Links
The BBC is not responsible for the content of external sites.