Men who murdered teenager after mobile phone row jailed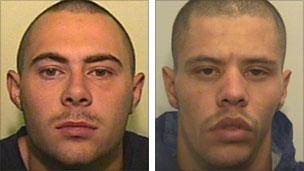 Two men have been jailed for life for murdering a teenager after a row over a mobile phone in Manchester.
John Muldowney, 18, was stabbed after an argument with friends at a house in Benchill, Wythenshawe, in June.
Kelvin Wilhelm, 26, of no fixed abode and Anthony Ellis, 23, of Hollyhedge Road, Benchill, were found guilty of his murder at Manchester Crown Court.
Wilhelm was given a minimum tariff of 20 years and Ellis must serve a minimum of 16 years.
Greater Manchester Police said on the night of 13 June, the pair had been at a house in Hollyhedge Road where they were drinking with a group of friends, including Mr Muldowney.
Ellis and Wilhelm were both seen carrying a 12-inch knife, passing it to one another throughout the evening.
In the early hours of the next morning, Wilhelm said someone had stolen his cannabis and mobile phone and told the group to take off their trousers to prove they were not hiding them.
Mr Muldowney refused and got into a struggle with Wilhelm, with Ellis joining in.
When screaming was heard outside the house, police and paramedics were called and Mr Muldowney was taken to hospital for treatment to a single stab wound to his chest.
He died a short time later.
Speaking outside court, the victim's mother Jeanette Toner said: "I love my five children all the same but John held a shine in my heart.
"He was a smart, clean, fresh-faced young man with manners.
"I am finding it difficult to put into words the pain I feel. No other pain has ever compared.
"No matter what happens to those who ended John's short but precious life my heartache will never end."
Det Insp Graham Brock said: "This was a gathering that turned rowdy in the most tragic of ways.
"Wilhelm's actions were that of a violent man who was firstly threatening people he called his friends with a knife, and then showed he was willing to inflict a fatal stab wound on John.
"Ellis was complicit in the murder as he egged on Wilhelm and did nothing to stop the stabbing.
"Our thoughts remain with John Muldowney's family."
Related Internet Links
The BBC is not responsible for the content of external sites.