Labour takes control of Rochdale Council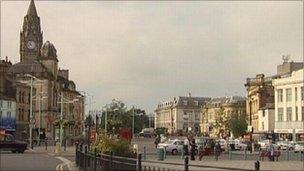 The Labour Party has taken control of Rochdale Council from a Conservative-Liberal Democrat coalition.
The move comes after seven Lib Dem councillors resigned over the party's leadership nationally and locally.
Labour was left as the largest single party, with 22 councillors, and will now rule as a minority administration.
The party must oversee cuts in spending of at least £50m next year. Colin Lambert is expected to be sworn in as the new council leader.
He said Labour wanted to introduce some changes to the budget.
"We have been working on alternatives for protecting the elderly, the vulnerable and children, what we call people services.
"We are working with finance on what would have been a budget for February, but we will now have to bring it forward and implement it in the next two weeks," he said.
Related Internet Links
The BBC is not responsible for the content of external sites.