BAE Woodford Nimrod plant to 'close early'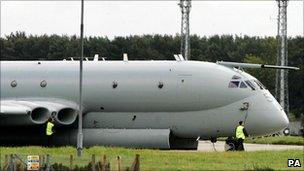 The BAE Systems' Woodford plant, near Stockport, could close a year earlier than expected, the BBC has learned.
It has emerged the plant could close within months, instead of in 2012 as originally planned.
The plant, which employs 450 people, was due to close in 2012 following the government's decision to abandon £4bn upgrading of the Nimrod aircraft.
BAE systems declined to comment but the BBC understands an official announcement is due on Thursday.
It has emerged that the plant could effectively close in the early months of next year.
The company is also expected to confirm it will start to dismantle the Nimrod planes before the end of the year.
A union spokesman said this would represent "the world's most expensive pile of scrap metal".
The decision will affect hundreds more staff in Lancashire who were expecting to provide "in service support" for the Nimrods.
Related Internet Links
The BBC is not responsible for the content of external sites.