Altrincham's unsuitable hospital is still safe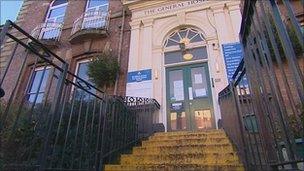 Patients at Altrincham General Hospital have been assured the building is safe - even though the site fails to meet modern standards.
Nearly a fifth of NHS facilities in England are deemed not up to scratch, according to data obtained by the BBC.
The entire Altrincham building, which Trafford Healthcare NHS Trust wants to scrap, does not meet national standards for issues such as space and design.
Estates manager Tristram Reynolds said improvements would cost "millions".
The 2009-10 figures supplied by the Department of Health show 17% of the NHS estate which is occupied is deemed as "not functionally suitable for use".
This covers national standards for issues such as space, layout and design as well as the availability of toilets and storage space, and the suitability of office space.
To fall below the required standard, areas are deemed to need a major overhaul or complete rebuild.
Hospitals were scored from 0% (the best) and 100% according to their functional suitability. Altrincham scored 100%.
"It's not unsafe but it's just an unpleasant place for staff and a place to treat patients," Mr Reynolds told the BBC.
"It sounds alarming doesn't it? But it shouldn't do. What it means is that technically, the existing Altrincham Hospital is out of date and doesn't meet modern standards.
"But it's quite safe and we provide good medical care within an ageing, unsatisfactory building.
"The building needs millions and millions to bring it up to proper standards."
Only essential maintenance work is carried out on the building because the trust is hoping to build a new hospital in the town.
The trust has presented its business case to the strategic health authority, NHS North West, but a decision is yet to be reached.
Trust bosses have previously said they remain "highly committed" to building a new hospital.
Related Internet Links
The BBC is not responsible for the content of external sites.