Icy roads cause traffic problems in North West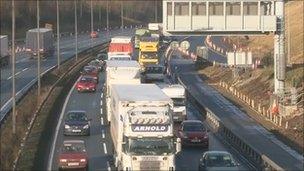 A woman was seriously injured when her car crashed in icy conditions which affected main routes in Greater Manchester and Merseyside.
Up to 50 cars were involved in separate collisions on the A580 East Lancs Road just after 0615 GMT, closing the road until about 1100 GMT.
A number of people suffered minor injuries and one woman was taken to hospital with severe head injuries.
It is believed water from a rain shower froze on the gritted road.
The ice caused treacherous conditions for motorists.
Minor accidents on the M62, M56, M6 and A556 caused long tailbacks and delays across the North West.
Greater Manchester Police said about 25 cars were recovered from the East Lancs Road, between Greyhound Island and Golborne Island.
The road was closed in both directions between Atherleigh Way and the Warrington Road junction.
The Manchester-bound M62 was closed between junction nine at Winwick and junction 10 at the M6 Croft Interchange after a crash between a lorry and several cars, but has since reopened.
Police in Cheshire responded to more than 150 calls from the public reporting collisions.
The force said there were more than 75 road traffic collisions on Cheshire roads and motorways between 0600 GMT and 1400 GMT.
Warrington, Congleton, Winsford and Macclesfield were among the worst areas affected by icy roads.
None of the injuries are reported to be life threatening.
Police are warning motorists to take care.
Related Internet Links
The BBC is not responsible for the content of external sites.