Call of Duty cyber attack prompts arrest of boy, 17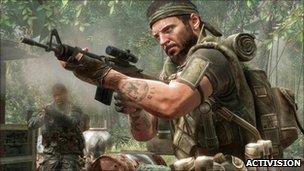 A teenager has been arrested in connection with a cyber attack which put the online version of the computer game Call of Duty out of action.
The 17-year-old was arrested in the Beswick area of Manchester by the Metropolitan Police's central e-crime unit earlier.
It followed a "denial of service" incident, which saw large numbers of people unable to play the game online.
Games company Activision contacted police in September this year.
Denial of service attacks are aimed at making websites unusable.
The attack came about via a malicious program called "Phenom Booter", which was also being offered for sale on a web forum which allowed those playing Call of Duty to score more points while stopping other people playing the game.
Detectives established that the server was hosted within the UK and further investigation traced the IP address more specifically to the Greater Manchester area.
The teenager, arrested on suspicion of offences under the Computer Misuse Act, is currently in police custody.
Det Insp Paul Hoare said: "Online gaming is a major retail sector with millions of titles being sold in the run-up to Christmas worldwide.
"Programs marketed in order to disrupt the online infrastructure not only affect individual players but have commercial and reputational consequences for the companies concerned.
"These games attract both children and young people to the online environment and this type of crime can often be the precursor to further offending in more traditional areas of online crime."
Related Internet Links
The BBC is not responsible for the content of external sites.