Labour shortlist for Oldham East by-election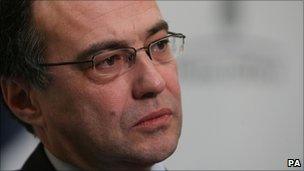 Three candidates have made the Labour Party's shortlist for the Oldham East and Saddleworth by-election.
Party members must now choose between Riaz Ahmad, Abdul Jabbar and Debbie Abrahams for who should fight for the seat vacated by Phil Woolas.
Mr Ahmad and Mr Jabbar are both former mayors of Oldham. Ms Abrahams was the 2010 Labour candidate for Colne Valley.
Mr Woolas lost his seat last month when an election court ruled he broke election law.
The court, which sat in Saddleworth, found that the former immigration minister had knowingly lied in about his Liberal Democrat opponent, Elwyn Watkins, in election leaflets.
Mr Woolas was banned from standing in a parliamentary election for three years and suspended from the Labour Party.
Related Internet Links
The BBC is not responsible for the content of external sites.