MPs criticise Greater Manchester court closure plan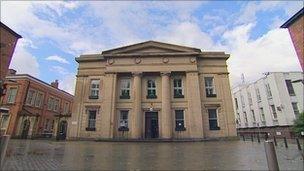 The government's decision to close three Greater Manchester courts has been criticised by MPs.
Salford magistrates' and county courts, as well as Rochdale magistrates', are among the 142 revealed to be closing across England and Wales.
Bury County Court, which had been under threat, was given a reprieve by justice minister Jonathan Djanogly.
Salford's Labour MP Hazel Blears said the coalition had undone 1,000 years of justice in the city within six months.
Rochdale's Labour MP Simon Danczuk described the town's court as having fantastic facilities and great staff.
He said the minister was "sadly mistaken" if he believed victims, witnesses and the accused would travel miles and miles for justice.
In a statement to the Commons, Mr Djanogly said changes to the court system would mean a "better, more efficient and more modern" system of justice, with premises modernised.
"Rochdale Magistrates' Court is a busy court with a good utilisation rate. However the court will close due to low utilisation across the Greater Manchester area."
Ms Blears, who led a delegation from the city to present alternative plans to the closure of Salford's courts, said the decision "flew in the face of all logic".
"We had the support of the Lord Chief Justice, who said that Salford City Council's alternative proposal should be supported and the court should remain open," she said.
"The city council would have met the maintenance backlog, would have met ongoing revenue costs for the court - there would have been no cost to the department [Ministry of Justice].
"We've had a court for 1,000 years. It's taken this government just six months to put an end to that."
The minister acknowledged that Ms Blears and the delegation had spoken "very strongly" in support of the city's magistrates' court.
But he added: "This is a court with a low utilisation rate and a building and facilities that are not adequate.
"The court is going to be closed due to these factors and also its very close proximity, which is just about half a mile, to Manchester City Magistrates' that can import the work."
The announcement means the Grade II-listed building at Bexley Square will be closed and cases moved to Manchester's new Civil Justice Centre.
Related Internet Links
The BBC is not responsible for the content of external sites.