Rochdale Council's no confidence in Pennine NHS trust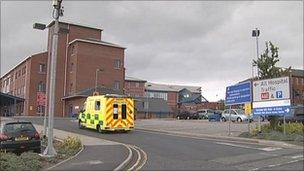 Councillors on Rochdale's divided local authority came together to deliver a unanimous vote of no confidence in the management of its health trust.
Elderly and vulnerable people are being put at risk due to failings at Pennine Acute NHS Trust (PAT), they claim.
All 60 councillors at Rochdale Council, which last week entered Labour control after the resignation of seven Lib Dems, voted to pass the motion.
The trust said it was making changes to improve and modernise health services.
More than 1,500 residents across the borough have signed a petition against the trust, created by Councillor Jean Ashworth, who chairs the health overview and scrutiny committee.
They want to see new management brought in and a full review into the trust by the secretary of state for health.
Speaking during the debate, Councillor Dale Mulgrew, of the Liberal Democrat group, said: "Distress signals are being sent by the staff, patients and the general public.
"This is very serious and unprecedented move by the council and it shows that we have exhausted all possible options.
"The financial mismanagement of the trust is destroying our hospitals."
Labour councillor Colin Lambert, who on Wednesday night was confirmed as the council's new leader, added: "Let this motion unite us."
In a memo, the trust - which covers hospitals in Rochdale, Bury and north Manchester - has declared "urgent financial recovery measures" which include no additional funding for winter, closure of two discharge lounges and temporary bed closures.
A spokesperson for Pennine Acute NHS Trust said mortality rates had improved in 2010 and all the proposals that had been announced had been put through consultation and agreed by the council.
"The proposals outlined in the Healthy Futures and Making It Better reconfiguration programmes were subject to public consultation four years ago," they added.
"Pennine Acute Trust supported the proposals, as did the regional strategic health authority. The proposals have received clinical support.
"The trust is therefore implementing the agreed decisions about how services are provided across its hospitals and Greater Manchester."
Related Internet Links
The BBC is not responsible for the content of external sites.