Stranded passengers fly from Manchester Airport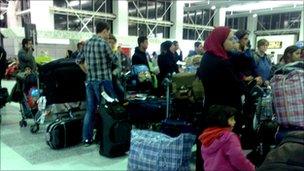 Passengers who had been stranded at Heathrow Airport because of snow and ice have flown out of Manchester.
The Qatar Airways flight to Doha at 2020 GMT was the first service to be moved. It was scheduled to fly from Heathrow on Tuesday.
A Cathay Pacific flight to Hong Kong was also due to leave Manchester at 2300 GMT. Two more flights on that route are expected to go on Wednesday.
Passengers are being taken to the airport on coaches.
Nearly 300 stranded students are hoping to be on their way home to Hong Kong from Manchester via the redirected Cathay Pacific flights after days of delays at Heathrow.
The majority of students have been studying in Britain and are trying to get home for Christmas
One group from the Southern Chinese city of Guang Zhou had brought a group of students to the UK for interviews at Oxford University.
Some were even offered conditional places as they tried to make their way home.
Southampton medical student Oscar Chiu, 21, who was due to leave on 19 December, said: "At terminal three, there was chaos, no-one was allowed into the terminal unless they had a confirmed flight but to re-schedule we had to go there, it was the only way to do it.
"I just can't wait to be back home for Christmas - hopefully this flight will take off."
Twenty-one-year-old Yun Hei Fok is an accountancy student from Edinburgh and was worried he might have to spend the Christmas holiday on his own in a London hotel with no friends or family.
The airport's managing director, Andrew Harrison, said: "Over the next 24 hours we are able to handle four Heathrow flights - that's about 1,000 long-haul passengers who would not have been able to get home for Christmas."
Mr Harrison said Manchester was open for business over the Christmas period and expected to deal with 650,000 passengers.
He said the airport had learned the lessons from the last cold snap and had increased its supplies of airfield de-icer.
There has been considerable disruption at Heathrow and Gatwick since Saturday, with thousands of people stranded.
Manchester Airport has also accepted flights bound for snow-hit airports.
The two flights moved to Manchester on Wednesday are also Cathay Pacific services.
Related Internet Links
The BBC is not responsible for the content of external sites.