Mother with locked-in syndrome in rehabilitation plea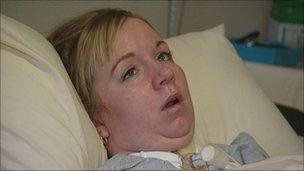 A mother-of-two from Greater Manchester who has locked-in syndrome has asked the NHS to reconsider funding her intensive rehabilitation.
Michelle Wheatley, 27, had a severe stroke which left her severely paralysed.
At the moment, she has a couple of hours of physiotherapy a week but her family want her to have intensive rehabilitation.
Ms Wheatley, from Stockport, was 25 when she had a severe stroke when she was giving her baby daughter a bath.
It has left her a prisoner in her own body - she is paralysed but her mind works perfectly.
She communicates by lifting her eyes up and down - up for yes and down for no.
She spells out her words letter by letter using a colour coded alphabet chart.
A simple sentence can take minutes to communicate.
Ms Wheatley spent more than a year in Stepping Hill Hospital, Stockport. She now lives in a private nursing home, with her bills paid by the NHS.
Her family and friends have said she is making some progress.
"Every day she's achieving new goals and they might be tiny little steps forward but, for Chelle, it's the road to independence," Jane Luck, a nurse at Ms Wheatley's care home, said.
"Every little thing that she does is setting her up for the future."
Ms Wheatley can now move her head from side to side, open her mouth, squeeze someone's hand and hold her own leg up.
Her family believe it is due to a couple of hours of physiotherapy a week but they want her to have more.
They claim her physiotherapist recommended her for an intensive 12-week rehabilitation course but the NHS turned her down.
Ms Wheatley's family admit the course is expensive - more than £35,000 - but they want to give her a chance.
Rick Blease, Ms Wheatley's partner, said: "It's a lot of money but in my eyes it's not a lot of money to make someone move again and enjoy their lives as much as they can."
NHS Stockport said: "We want Michelle's condition to improve as much as is possible and are therefore funding the excellent care she currently receives at a specialist nursing home.
"We have investigated whether the intensive rehabilitation course would benefit Michelle and our initial judgement is that the service it offers is no better than the one already available to her."
Ms Wheatley and her family are due to meet NHS Stockport in January.
Related Internet Links
The BBC is not responsible for the content of external sites.