Heinz workers at Wigan factory set to strike again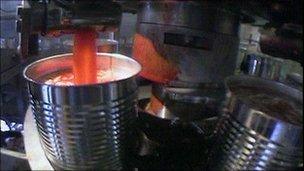 Another strike by Heinz workers is "inevitable" after talks aimed at resolving a row over pay broke down, union leaders said.
Unite members at the site in Wigan, Greater Manchester, will strike for 24 hours from the evening of 29 December.
Further days of industrial action are expected in the new year.
Heinz said it had "worked hard to improve what we already believed was a very fair offer" and was disappointed with the outcome of the talks.
A spokesman said the current offer to factory workers was equivalent to 4% this year and 3% next, and was worth between 3.6% and 4.6% for the vast majority of Heinz workers the second year.
A spokesman said: "What we are proposing addresses a number of key points we received in extensive feedback from our employees.
"We have worked hard to improve what we already believed was a very fair offer in an attempt to try to bring an end to the dispute.
"Our offer is well above our competitors and UK average weekly earnings which are increasing by 1.7%. Heinz remains a top tier employer and payer."
He said supplies of Heinz products were unaffected.
Jennie Formby, Unite's national officer for the food sector, said: "Heinz must start listening to their workers if they want to avoid an escalation to this dispute.
"Our members won't be palmed off with a second-rate deal that in real terms represents a cut in their standard of living when Heinz is making such excellent profits and continuing to reward senior executives and shareholders so generously."
She said workers were still willing to sit down with the company to negotiate a settlement.
Related Internet Links
The BBC is not responsible for the content of external sites.