Lancashire County Cricket Club faces new ground fight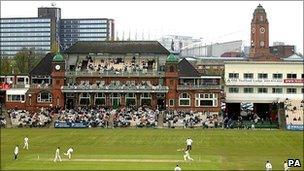 Lancashire County Cricket Club is facing a late legal challenge to its plans to upgrade its ground ahead of the 2013 Ashes series.
The club received planning permission in September from Trafford Council for the £32m redevelopment of Old Trafford.
But property company Derwent Holdings Ltd, owners of nearby White City retail park, is seeking a judicial review.
The new ground would include the creation of a Tesco store on a neighbouring 50-acre site.
The plans, which would also include new pitches, two new grandstands and a new pavilion, were called in by Communities and Local Government Secretary Eric Pickles for review.
He decided against a public inquiry and passed the final decision back to the council.
Derwent Holdings Ltd is one of several companies set up by the Kwik Save founder and Isle of Man-based millionaire Albert Gubay.
The company had challenged the original planning permission after Trafford Council rejected Derwent's application for a smaller Sainsbury's store at White City on the grounds that it would impact on trade.
The judicial review is challenging the subsequent granting of planning permission, claiming Trafford Council had acted illegally.
Jim Cumbes, secretary of Lancashire County Cricket Club (LCCC), said: "LCCC has been in Old Trafford for 150 years and is seeking to secure a future for international cricket for the next century.
"This action is about securing commercial gain at the expense of the LCCC's sporting legacy for schools, community groups and young people in the North West."
He added: "Mr Gubay is based in the Isle of Man tax haven and his company is based in Bermuda. People can draw their own conclusions from the contrast."
A spokesman for Derwent Holdings Ltd said: "In view of pending legal action we are refraining from responding to the allegations made by Lancashire County Cricket Club."
He added: "Derwent and its associates is a company whose assets of £1bn will be transferred to a charity whose assets will generate at least £20m for good causes.
""If it is a matter of who will produce the greatest benefit to the community, there can only be one winner."
Related Internet Links
The BBC is not responsible for the content of external sites.