Ten candidates to fight Oldham by-election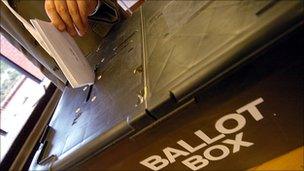 Ten candidates will contest the Oldham East and Saddleworth by-election, it has been confirmed as nominations closed on Thursday.
The poll, on 13 January, was triggered by a court ruling annulling the general election result from May.
The election court found Labour's Phil Woolas had made false statements about his Liberal Democrat opponent Elwyn Watkins.
Mr Watkins missed out on the seat by just 103 votes.
The constituency was a three-way marginal in May. Conservative candidate Kashif Ali, who is standing again, was less than 2,500 votes behind him.
The by-election is viewed as the first major test of how the Conservatives and Lib Dems intend to campaign against each other, while working together in coalition.
The prime minister fuelled suspicions of a deal between the parties when he wished Mr Watkins well last week.
However, David Cameron has since stressed that he would be visiting the constituency to campaign in person - unusually for a prime minister.
Deputy Prime Minister and Liberal Democrat leader Nick Clegg visited the constituency on Wednesday, saying his party was fighting for "every single vote".
There had been speculation that the leader of the British National Party, Nick Griffin, would stand. However, a local activist will be standing.
The full list of candidates (in alphabetical order) is:
Debbie Abrahams (Labour)
Derek Adams (British National Party)
Kashif Ali (Conservative)
Peter Allen (Green Party)
David Bishop (Bus-Pass Elvis Party)
The Flying Brick (Monster Raving Loony Party)
Loz Kaye (Pirate Party of the United Kingdom)
Stephen Morris (English Democrats)
Paul Nuttall MEP (UK Independence Party)
Elwyn Watkins (Liberal Democrats)
Related Internet Links
The BBC is not responsible for the content of external sites.