'Phenomenal' day for Manchester's Arndale shops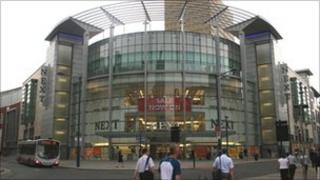 Shoppers are to struggling to enter stores in Manchester's Arndale Centre because of the sheer volume of people as thousands descend on the city.
The day's trading has been "phenomenal", with 150,000 going through the shopping centre's doors so far.
Another 20,000 are expected by the end of the day, the centre's manager Glen Barkworth said.
"There was a feeling that people felt today was like a Saturday," he said.
There had been some concern across the retail industry before Christmas as the cold weather bout forced many to stay at home.
Many cities were quieter than usual in the run up to the festive season.
Mr Barkworth added: "When we opened up at 9 today, by 9.30 we had 20,000 people in the malls and the shops only opened at 11, it's been phenomenal.
"We went around the shops to ask them to open early to extend the browsing time to allow customers into the stores.
"With VAT increasing in a few days time the retailers are gearing themselves up to take advantage, they have purchased in bulk and the public are willing to buy."