Hospice Charity song copy 'harming iTunes sales'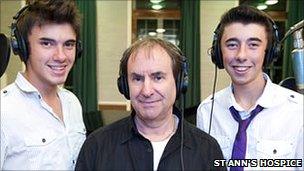 Two teenage brothers from Stockport who recorded a charity single in memory of their mother claim their fundraising efforts are being hurt by a rival copy.
Ben Hazelby, 17, and his brother Jamie, 14, recorded a version of Lonely Sky with Chris De Burgh to raise money for St Ann's Hospice in Heald Green.
But they say sales on online retailer iTunes have plummeted since a company began selling a "tribute" version.
The firm behind the cover, JWH Records, could not be contacted for comment.
Bosses at the Apple-owned retailer are investigating the song and have contacted the company for an explanation, the boys said.
Their mother, Gill, died in January 2009 after a battle with ovarian cancer. She was 41.
Since then her sons, from Cheadle Hulme, have raised £82,500 for St Ann's Hospice to rebuild its day care centre.
The song was recorded with Chris De Burgh and released after the pair featured on television programme, Noel's Christmas Presents, on 19 December.
It had featured in the iTunes chart and had raised about £7,000 when the pair noticed sales suddenly tailing off.
They told the BBC they believe people are buying the rival track, which is labelled as "Lonely Sky (Ben Hazelby, Jamie Hazelby Tribute)", instead of their version.
"On iTunes people can post comments and they've been posting 'your Mum would be really proud' and stuff like that," said Jamie.
"They [iTunes] have told us that the company that's done it has five days to prove that they were allowed to release the song before it gets taken off, and all the money goes back to the hospice," added Ben.
The boys' father, Paul Hazelby, 44, said: "It makes my blood boil. I'm really, really angry."
It is not known whether the proceeds for the rival track are intended for the hospice.
Related Internet Links
The BBC is not responsible for the content of external sites.