New Year's 'rise' in abuse in Greater Manchester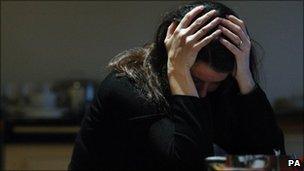 Police in Greater Manchester are urging victims of domestic abuse to come forward, as they anticipate a spike in reported incidents on New Year's Day.
On 1 January 2010, the force recorded its highest number of domestic abuse incidents for the year, with 131 reports.
Greater Manchester Police's Assistant Chief Constable Terry Sweeney said he expected it to rise again on Saturday.
He promised to give victims support to leave abusive relationships.
"Over Christmas and particularly on New Year's Day, we historically see an increase in the number of domestic abuse incidents reported to us and we're expecting to see a rise again this year," he said.
"This is due to heightened family tensions, unrealistic expectations and worries about finances, which when fuelled by excessive drinking, can lead to an increase in the number and severity of attacks.
"The fact that such a high number are reported on New Year's Day indicates that victims wait until the festivities are over and decide to make a fresh start in the new year by reporting the abuse."
Extra officers will be on duty to attend domestic abuse incidents. Specialist domestic abuse investigators will be available to provide advice and support to officers.
In some areas, officers have also been visiting households most affected by domestic abuse, to reassure victims that help is there should they want it.
"Domestic abuse is not acceptable at any time of year," Mr Sweeney said.
"We want to urge victims not to suffer in silence but to come forward and report it now and get the help they need."
He also urged friends, family members of neighbours to contact police if they are concerned about someone.
Sam Priestley, Chief Officer of Independent Choices which runs the Greater Manchester Domestic Abuse Helpline, said: "No one should have to suffer domestic abuse in silence.
"Our message is seek help, and the earlier the better, even if it is just to find out your options, local support is available."
Related Internet Links
The BBC is not responsible for the content of external sites.