Christmas trees to be recycled for Heaton Park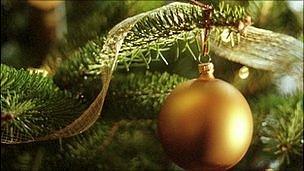 Residents in Manchester are being urged to recycle their Christmas trees so the chippings can be used in a city park.
The chippings from recycled real trees will be used to provide tracks for animals at Heaton Park's animal centre, and trails for horses at the stables.
People can leave the trees on the kerb outside their homes on their usual collection days or take them to temporary recycling centres in parks.
The council will also collect trees for people who do not have a green bin.
Councillor Nigel Murphy, Manchester City Council's executive member for the environment, said: "We know Mancunians are keen to recycle everything they can, including their Christmas trees, and I'm sure this year will be no exception.
"These recycled trees are going to be put to a good use at sites such as the Heaton Park farm, which is well used by children from across the city."
Related Internet Links
The BBC is not responsible for the content of external sites.