Third planned Heinz strike in Wigan suspended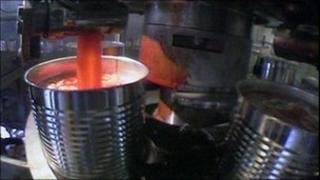 A planned strike on Wednesday at the Heinz factory near Wigan has been called off after a new pay offer from the company.
The Unite union and management held talks on Tuesday which resulted in the new package being put to workers.
The union agreed to suspend the strike ahead of a fresh ballot of its members over the offer.
But the union said if the offer is rejected there will be another strike on 11 January.
Under the new deal, workers would receive a 3.5% rise in the first year plus a £200 one-off payment and a 3.4% increase in the second year.
A further increase for shift workers of between 0.6% and 1.6% is also part of the deal.
"We have worked hard to improve what we already believed was a very fair offer in order to bring an end to the dispute," said a company statement.
'Profitable company'
It added: "Our offer is well above our competitors' and UK average weekly earnings which are increasing by 1.7%."
The union, which held two 24-hour strikes last month in a dispute over pay, said the offer was a "marginal" improvement and it was going to ballot its members.
Jennie Formby, Unite national officer for food and drink said: "Heinz has tabled a new offer and the senior stewards unanimously agree that we must give our members an opportunity to vote on this.
"However, Unite remains of the belief that the new offer, which represents only a small improvement, is less than our members deserve and certainly less than Heinz, a profitable and recession-resistant company, should and could be paying."
About 1,200 staff work at the Kitt Green plant near Wigan.