Sex offender jailed over talking to Manchester boy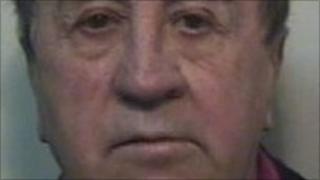 A 73-year-old convicted sex offender has been jailed after he approached a four-year-old boy in a Manchester burger restaurant.
Peter Lander Jones, of Anson Road, Victoria Park, pleaded guilty to breaching his Sexual Offences Prevention Order.
Manchester Crown Court heard that he spoke to the child in a Burger King on Wilmslow Road in December.
He was jailed for two years and six months.
Lander Jones had been convicted in November 1999 for following 16-year-old boy into a McDonalds in Manchester city centre and asking him for sexual acts in return for money.
He received a three years and 10 months jail sentence.
Lander Jones was jailed for a second time in May 2007 for three years and eight months after breaching his order for a fifth time.
Manchester magistrates passed an order preventing him from communicating with children in July 2010 after he approached young girls in a church.
'Fully justified'
Manchester Crown Court heard that Lander Jones' probation officer witnessed him speak to the boy, who was with his father, and Jones was arrested the following day.
After the sentencing, Det Insp Debbie Conlon Houldershaw said: "The order was put in place to protect the public and to prevent anyone else falling victim to Lander Jones. We have worked closely with probation to monitor this difficult individual.
"The fact he flagrantly disregarded this order and deliberately approached a four-year-old boy in public shows that he remains a danger to the public.
"As a result we feel fully justified in pursuing this case and hope that his return to jail provides some reassurance."