Harry Potter actress's brother jailed for attacking her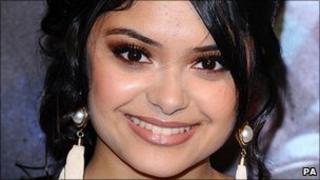 The brother of a Harry Potter film actress who assaulted her because her boyfriend was not Muslim has been jailed for six months.
Manchester Crown Court heard Ashraf Azad launched a "prolonged and nasty" attack on Afshan Azad, who played Padma Patil in the hit films.
She was punched repeatedly and dragged by her hair after being overheard talking to her Hindu boyfriend.
Mr Azad, 28, pleaded guilty to assault occasioning actual bodily harm.
The court previously heard how Miss Azad, 22, was branded a "prostitute" and "slag" and was told: "Marry a Muslim or you die."
The actress fled the family home in Longsight, south Manchester, through a bedroom window after the attack on 21 May 2010.
The actress, who now lives in London, had pleaded with the court not to jail her older brother.
But Judge Roger Thomas QC said there were no good or proper reasons to suspend his sentence of six months.
"This persistent attack was accompanied by serious and very hurtful abuse and threats," he told the defendant.
"It must have been a miserable and frightening experience for your sister which, she suggested, lasted for about three hours or so.
"The background to this offence lies in the concern that you, and perhaps other family members, had about Afshan's relationship with a young man who was not of the Islamic faith."
He added: "This is a sentence that is designed to punish you for what you did and also to send out a clear message to others that domestic violence involving circumstances such as have arisen here cannot be tolerated."
The court heard that Miss Azad was in her bedroom, talking on her mobile phone and was overheard by her brother in the bathroom, who assumed she was speaking to her Hindu boyfriend.
Thrown across room
Richard Vardon QC, prosecuting, said Azad confronted his sister who ended the call, hid the phone and sim card and then sat on her bed before the defendant barged in and began shouting at her.
"He then grabbed her hair and threw her across the room," the prosecutor said.
"She began crying and asked him to stop. The defendant began punching her with clenched fists to her back and head area."
The court was told that her brother's wife, Sonia, who also lived at the house, came into the room and tried to push him away.
Mr Vardon said the actress was pushed on to her father's bed, with her brother shouting: "Sort your daughter out! She's a slag!"
Azad then grabbed his sister by the neck and began to throttle her, the court heard.
"She struggled to breathe and was scared for her life," Mr Vardon added.
The victim's mother and sister-in-law then entered the bedroom as the family discussed what to do with her, the court was told.
Marriage list
Mr Vardon said her father, Abul, 53, suggested sending her back to Bangladesh for an arranged marriage, while her mother called her a "prostitute".
Miss Azad's father sent her to bed, but she fled the house the next day.
Miss Azad's character, a witch in the same year as Harry Potter at Hogwarts, first appeared in Harry Potter and the Goblet Of Fire.
She also features in Harry Potter and the Deathly Hallows, the final film of the saga, which is being released in two parts.