Greater Manchester maternity closures set for approval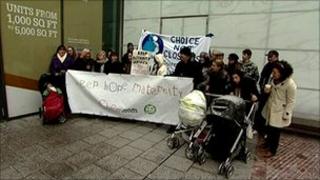 Health bosses look set to finally begin a huge shake-up of maternity services across Greater Manchester - four years after it was approved.
NHS North West postponed a decision to close consultant-led maternity units in Salford, Bury and Rochdale last month.
But board members are now satisfied the scheme meets four tests ordered by the government and will meet on Wednesday to approve the go-ahead.
Senior doctors had claimed further delay could affect patient safety.
The re-organisation of maternity care across Greater Manchester - dubbed Making It Better (MIB) - was approved in August 2007 by the previous Labour government, but was put on hold in June 2010 by new health secretary Andrew Lansley, pending a review.
Under the shake-up, units in Rochdale, Salford, Trafford and Bury were to close to concentrate consultant-led maternity care at eight hospital sites across the region.
Closure 'brought forward'
Services have already closed at Trafford and the others will now follow after leading consultants in obstetrics, paediatrics and neonatal intensive care wrote to the board last month.
According to agenda papers, they all expressed concerns about the "adverse impact of any delay to implementation of MIB, in particular in terms of the potential risks to patient safety".
However, the Royal College of Midwives believes the new model will not have enough capacity to deal with rises in the birth rate, particularly in Manchester and Salford, the report adds.
Papers going to the board recommend implementing the plans but changing the timing of the closures to bring forward either Bury or Rochdale.
Salford's relocation of services should go ahead in November, the report says, with the others taking place either side in summer 2011 and spring 2012.
Maternity services will not completely disappear from Salford, with the board being asked to approve the establishment of a midwife-led unit.
Similar units will also be considered in Rochdale and Bury.
Some campaigners have opposed the closure of the sites and petitioned outside the last NHS board meeting in December.