Revamped Greater Manchester Police to share offices
By Michelle Murphy
BBC News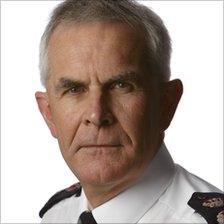 Police officers could work with social workers in neighbourhood centres under proposals to tackle "chaotic" families.
Greater Manchester Police Chief Constable Peter Fahy wants to move staff out of police stations and into offices with council workers.
The proposal could help reduce anti-social behaviour by working with families before they are involved in more serious offences.
But it could mean police moving from areas where there are fewer crimes.
Mr Fahy said cuts required forces to re-think structures to stem costs.
He said one family, which had been involved in a series of incidents, had cost his force £50,000 over 12 months.
He said: "You could say that it would have been cheaper if we'd had a police officer living with them."
He claimed budget cuts of almost 25% over the next four years have added fresh impetus to the need for a new solution to costly re-offenders.
"There's a big imperative now for us to work closer together with other agencies. At present there's good relations and good partnerships, but I want to go a stage further and actually join up formally.
"We're all finding that certain chaotic families are taking up our resources and the figures are just staggering," said Mr Fahy who estimated that no more than 1,000 families out of Greater Manchester's three million population are responsible for taking up most of his officers' time.
"There's a difficult bit in here for everybody and I know some feel why should they get it when you're closing libraries?" said Mr Fahy, 47, who took up his post in September 2008 from neighbouring Cheshire.
"But the fact is we are spending lots of money on that family already.
"All the research points in the direction that we need to put resources their way. It's the only thing that will work. It's frustrating and it's long-term, and you will have individuals who will not take it and who will continue being chaotic.
"These families are not just responsible for crime, so it's hard to put a figure on the true cost, but we know they also have fights within the family, drunken parties, anti-social behaviour and self-harming."
In March 2010 Greater Manchester Police, which is the UK's second biggest force with 4,000 staff, was judged by Her Majesty's Inspectorate of Constabulary (HMIC) to be the second worst in the country, prompting Mr Fahy to give it a 90-day deadline to improve.
It did and latest HMIC figures show it has had the fourth biggest reduction in crime out of forces in England and Wales and is the sixth most improved force.
"To be blunt we're very upbeat despite the cuts," said Mr Fahy.
"My people are not going to let the criminals get an easy life out of this and we're continuing to reduce crime, but we need to take brave steps to say yes we're going to put this group of professionals in shared offices.
"I'm saying let's have one person in control of a local neighbourhood and I'm not really worried about whether that's a police inspector or a housing officer or local authority manager.
"That will stop the public being passed around to different departments who say it's somebody else's responsibility and we'll get people's problems solved."
At present, police forces are allocated funding partially based on crime figures and performance tables, which Mr Fahy believes perpetuates a reactive culture.
He said: "We had a pub in Manchester that we went to 100 times - now that's a disgrace, we should have closed it down after 10 times.
"Public services respond reactively because we are measured and funded for arresting more people and for getting more detections, so we need to get a different performance and funding mechanism that rewards us for preventive work."
Mr Fahy said that from his regular meetings with the government he feels it is responsive to his ideas and that the treasury is "talking the right language" but that no additional funding is anticipated.
Related Internet Links
The BBC is not responsible for the content of external sites.