'Jealous' husband denies murdering wife in Heaton Park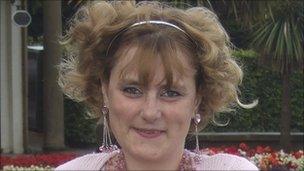 A jealous husband stabbed his estranged wife to death in a Manchester park after she refused to reconcile their relationship, a court heard.
Brian Oliver, 40, stabbed Joanne Oliver 15 times in a "brutal act of violence" in Heaton Park last September.
He left her in a pool of blood and tried to slash his own throat and wrists before confessing to workmen.
Appearing at Manchester Crown Court, Mr Oliver denies murder on the grounds of diminished responsibility.
The court heard the couple had been together for 14 years and they had been married for 10, living together in Duke Street, Radcliffe.
Graham Wood QC, opening the prosecution, said the past few years had not been happy ones and at the time they were in the process of breaking up and living apart.
He said when they first split up there was no-one else involved, but since then Mrs Oliver had started to see someone else.
Mr Wood said: "She had a relationship with someone in Ireland, but shortly before her death she had met up on Facebook - the social networking site - with a man from the Midlands and had developed a close bond with him."
The jury was told Mr and Mrs Oliver had had a "volatile relationship" and that the defendant would "drink excessively" and on occasion was violent to his wife.
Mr Wood said: "Those who knew the couple will say that he was jealous of her with other men and somewhat possessive and controlling."
They had arranged to meet at Heaton Park, in Prestwich, Manchester, on 24 September.
The court heard that on the day before the killing, Mr Oliver sent numerous texts to his wife, believing that she was seeing someone else.
She told him there was no-one, but he continued to text and asked to meet his wife at Heaton Park.
They arrived there at about 0930 GMT, but were not seen until about half an hour later, when dog walker Juliette Lewis saw a man standing over something holding a "very large knife in his hand".
Mr Wood said: "From where she was, Mrs Lewis could not see what the man was standing over but assumed it was somebody because she could see two hands reaching up from the ground.
"The man appeared to her to be crazed or drunk, as if on another planet."
The court heard Mrs Lewis heard a "moaning scream" coming from the body and ran to get help.
Police arrived and were searching the area when Mr Oliver emerged from woodland and told workmen he was going to hand himself in.
He told police that he took the knife to kill himself and that when his wife tried to stop him they fell down some wooden steps, at which point he lost "all self-control" and lashed out at her.
Related Internet Links
The BBC is not responsible for the content of external sites.