Rare tortoise seizure leads to arrest in Manchester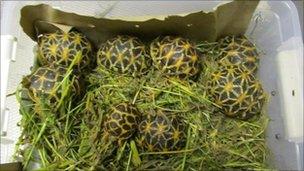 A man from Manchester has been arrested over an alleged plot to smuggle eight live tortoises into the UK.
The animals, worth a total of £2,000, were discovered in a parcel flown from Thailand to a sorting office in Coventry.
The Indian Star tortoise is a rare breed which is protected by international law.
The UK Border Agency (UKBA) said the animals survived their ordeal and are being cared for in quarantine.
UKBA officers made the discovery during a search of freight at the international postal hub in Coventry.
Opening a parcel, they found a plastic lunch box containing eight young tortoises valued at around £270 each.
The Indian Star tortoise (Geochelone elegans) originates from India and Sri Lanka and is popular in the exotic pet trade.
It is one of a number of rare creatures protected by the Convention on International Trade in Endangered Species (CITES).
In 2008-09, UKBA officers seized 61,402 CITES items.
A man from south Manchester has been questioned in connection with the discovery.
Related Internet Links
The BBC is not responsible for the content of external sites.