Shooting victim's mother appeals to 'haunted' killer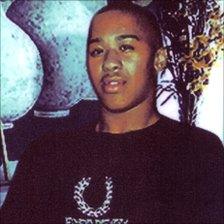 The gunman behind the fatal shooting of a 16-year-old boy in a south Manchester betting shop must be "haunted" by his crime, the victim's mother has said.
Louis Brathwaite was shot inside William Hill on Mauldeth Road West, Withington, in January 2008. He died in hospital on 10 February.
His mother, Sophia, said all she had left were "photos and memories" and urged the killer to give himself up.
A £50,000 reward is on offer for information leading to a conviction.
Speaking on the third anniversary of his death, Louis's mother said: "I know you are out there and you are human and just like me, the night you shot my son must haunt you.
"Erase this horrible memory from your mind and mine and come forward before it is too late and this memory destroys you - it will eat you away."
The teenager was inside the betting shop on 28 January when a gunman burst in and fired five shots, also hitting a second man.
The gunman is described as black, between 5ft 7ins and 6ft tall and dressed in dark clothing with his face covered.
After the shooting, he fled with another man in a black Volkswagen Golf. Despite an arrest being made, no-one has been charged over the death.
Det Sgt Desmond Fowler, of Greater Manchester Police's Major Incident Team, said: "This remains an open and ongoing investigation but what we really need is new information to give it fresh impetus.
"I want the person who holds that key piece of information that could help us catch Louis's killer to trust the police.
"I cannot stress strongly enough that we have measures that we can seek to use to protect your identity."
In March 2010, Manchester Crown Court heard that another gun victim, 16-year-old Giuseppe Gregory, was shot dead in a revenge attack for Louis's killing.
Giuseppe was killed in a pub car park in Stretford on 10 May 2009 while sitting in a car next to a man rumoured to have shot Louis - but who was ruled out of police inquiries.
Louis's friend Hiruy Zerihun, 18, and 19-year-old Njabulo Ndlovu were both jailed for life after being convicted of Giuseppe's murder.