Greater Manchester hospital grounds could go smoke-free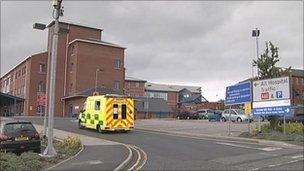 A Greater Manchester NHS Trust is campaigning for a change in law to make all its hospitals and grounds fully non-smoking areas.
The Pennine Acute Trust already has a policy which bans smoking in any trust building or premises, including outside hospital doorways.
Chief executive John Saxby said it was "incredibly difficult" to enforce.
The trust is calling for local MPs to support its campaign for the smoking ban to be extended to hospital grounds.
It says it is taking action following complaints from staff, patients and visitors about smoking outside the entrances to its four main hospitals.
The trust runs Fairfield General Hospital in Bury, North Manchester General Hospital, the Royal Oldham Hospital, Rochdale Infirmary and services at Birch Hill, Rochdale.
It said people having to pass through a smoke-filled environment to enter or exit a building could sometimes cause inconvenience and distress.
'Unsightly and unpleasant'
The trust has considered building smoking shelters at the cost of £86,000, but the idea was discounted.
New non-smoking exclusion zones, which are marked with diagonal red lines, have already been approved for outside its hospital entrances.
Mr Saxby said: "We certainly do not wish to place our staff at risk of potential abuse or injury when talking the very emotive issue of people smoking at hospital entrances or in hospital grounds.
"We wish to go one step further and lobby parliament for a change in the law to extend the current no-smoking legislation to include hospital grounds.
"The success of the national smoking ban within public buildings clearly demonstrates that firm and decisive action, backed by legislation, can lead to a significant change in behaviour, habits and culture."
Dr Sally Bradley, deputy medical director at the Pennine Acute Trust, added: "Smoking at hospital entrances is not only unsightly and unpleasant for people who have to walk through a cloud of smoke to gain access to our hospitals, but it is causing increased litter and is a serious fire risk and health hazard."
Mr Saxby has written to all local MPs, Primary Care Trusts, local authorities and Health Overview and Scrutiny Committees to ask for their support.
Related Internet Links
The BBC is not responsible for the content of external sites.