Stockport to join Bolton in race for city status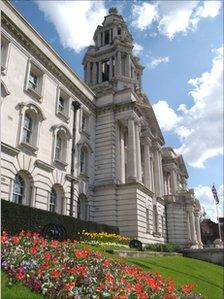 Stockport is set to to go head-to-head with Bolton in a bid to be named the UK's newest city.
Only one town can be given the title as part of the Queen's Diamond Jubilee celebrations in 2012.
Bolton has already applied for the title and Stockport is expected to confirm its bid next week.
Preston was the last town in England to be granted city status. The next winner will be announced in the first half of 2012.
With a population of 283,000, Stockport is the third largest authority in Greater Manchester with a history going back almost 2,000 years to Saxon times.
Council leader Dave Goddard said the bid was based on the town's size and heritage as well as its tourist attractions and transport and business links.
"I think there's a good story to tell from Stockport," he said.
Adding: "Where else has a motorway running through it, an intercity line to London and an international airport 20 minutes away?
"You tell me another town that's got that and I'll withdraw my bid."
Mr Goddard also pointed to research suggesting city status had been worth £2bn to Wolverhampton since it was granted the honour in 2000.
"For me, it's about quality of life," he said.
"I'm bringing companies to Stockport that Bolton can't attract, the likes of Nike and Adidas and Sky are coming.
"We've got the connectivity that those big players need, we're a heartland for blue chip companies but we're also on the green belt.
"So I'll be strongly recommending to the [Liberal Democrat] group that we support the bid."
Bolton revealed its ambitions to become a city on 4 February saying it was "a city in all but name".
"We should go after the official recognition we rightfully deserve," said council leader Cliff Morris.
The competition for city status to mark the Queen's Diamond Jubilee was announced in January.
Since then Blackpool, Reading, Luton and the five Medway towns in Kent have also signalled their intentions to compete.
The deadline for entries is 27 May 2011.
Related Internet Links
The BBC is not responsible for the content of external sites.